The Camp Gordon Johnston WWII Museum is in the midst of an exciting and critical capital project that will allow us to better tell the story of our heroic service men and women. We will do this by increasing the capacity of the museum, adding exhibit space, enhancing the library and archives, and expanding collections and conservation space. When completed, the museum will be positioned as a leading resource on the history, values, and lasting significance of World War II, prepared to educate audiences for generations to come. These illustrations provide a glimpse into the powerful plans for the Camp Gordon Johnston WWII Museum expansion and with your assistance this new facility can become a reality.  Stage one of our capital growth is a facility to house the museum's many WWII artifacts, memorabilia and personal items of the soldiers who trained for the Normandy invasion and the Pacific Theater.  This new facility will also allow additional new displays to honor the veterans of the Korean Theater, Vietnam War and Gulf Wars I & II.
Donations can be mailed to:
Camp Gordon Johnston WWII Museum
PO Box 1334
Carrabelle FL 32322
Inaugural Camp Gordon Johnston Benefit Golf Tournament Honors Pearl Harbor Day
Camp Gordon Johnston WWII Museum and St. James Bay Golf Club will be hosting an Inaugural Camp Gordon Johnston Benefit Golf Tournament on the anniversary of the attack on Pearl Harbor. This tournament is being held on Pearl Harbor Day to honor the brave men and women who responded to our country's need and served in the armed forces at home and abroad. The tournament is scheduled for Saturday, December 7 at St. James Bay Golf Club in Carrabelle, FL beginning at 9:00 am. The Camp Gordon Johnston Museum will display vehicles and artifacts on site during the tournament. Following the tournament there will be a buffet at the Crooked River Grill in the St. James Bay Clubhouse.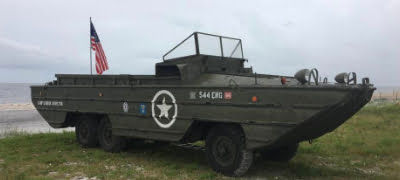 All proceeds will help fund a new building to house Camp Gordon Johnston's three historical military vehicles, including the famous WWII DUKW. These historical military vehicles are still operable and because of the lack of space onsite at the museum, currently they must be kept at a separate location.
There are many sponsorship options available to support the Museum. A variety of volunteer opportunities are also available for positions like greeters and judges for the putting contest. Help preserve the memories of those who served our country while having a great time in the process. For more information about becoming a sponsor or volunteer, contact Lisa Keith-Lucas at 1keithlucas@gmail.com / 931-636-2145 or download the sponsorship form here.