The museum has a collection of files on individual veterans who trained or worked at Camp Gordon Johnston. We will be (slowly) adding their stories to the website. Click on the blue links to see their stories below:
*************************************************************************************************
Leon R. Russell
Leon R. Reynolds of Calvert County MD served with the Headquarters Company, Army Service Forces Training Center at Camp Gordon Johnston. He is the first ever soldier we have identified as being part of the training company for Amphibious Truck soldiers.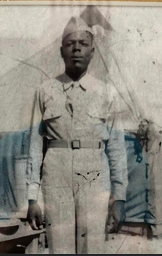 George F. Mills
See the following Facebook page for more on Sgt. Mills, a member of the 28th Infantry Division, who trained at Camp Gordon Johnston. He was liberated as a POW in April 1945.
https://www.facebook.com/sgtgeorgefmills
William C. Ellis, on far right: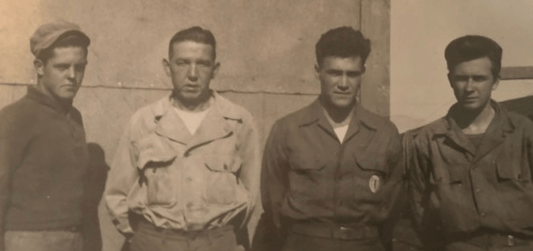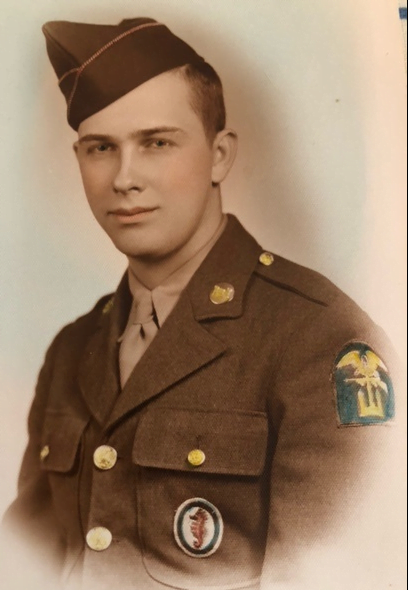 His son Randy shared the following: "William Ellis was a great father, a very mild mannered man. My dad did not want to talk about the war other than to say that he was at Camp Gordon Johnston, Camp Edwards, and the Battle of the Pacific. My brother Bill tried to pry information out of him but really amounted to a few pieces of information.
New Guinea and the jungle with many different types of fruit. The invasion of the Philippines and the horrible smell of rotting corpses. As my father was getting into the landing craft, Japanese pilots were trying to crash their planes into the ships.
I have a Japanese Sword and rifle. My dad would not tell me how he got it. After my dads death I saw a show on the history channel that General MacArthur allowed the Japanese soldiers to file off the orchid flower (Symbol of the Emperor) off of their weapons before surrendering the weapons. Both the sword and rifle have the orchid flower on them. The Army allowed US Soldiers to mail Japanese weapons home.
After Japan surrendered their was not any resistance when US Soldiers walked off of the ships during the occupation. My dad and a few other soldiers unloaded a piano off of a ship and moved the piano to General MacArthur's house and had a drink with a Colonel."
Louis P. Bellow
While in college, Bellow decided to join the U.S. Army's Enlisted Reserve Corps (E.R.C.). College students were encouraged to sign up for the E.R.C.—they could do so as young as age 17—with the understanding that they would be able to continue their schooling until the Army needed them, no sooner than their 18th birthday. A document suggests that Bellow joined the E.R.C. on November 27, 1942. Regardless, a notation on his draft card shows that he was in the E.R.C. by the time he registered for the draft on December 12, 1942. The registrar described him as standing about five feet, 6½ inches tall and weighing 130 lbs., with brown hair and eyes. She noted that Bellow wore glasses and had a two-inch scar on his forehead.
The choice to serve was entirely Bellow's. His niece, Lyndie Callan, recalls: "He wore thick glasses and had flat feet and would have qualified for 4F [unsuitable for military service] status, but he wanted to crush fascism, even at the cost of his own life."
Bellow was one of 120 E.R.C. men from West Chester State Teachers College called up for active duty in early 1943. They reported to Fort George G. Meade, Maryland, on March 1, 1943. In her statement to the State of Delaware Public Archives Commission, his mother wrote that Private Bellow arrived at Camp Robinson, Arkansas, around March 5, 1943. She wrote that after basic training, her son transferred to Camp Gordon Johnston, Florida, around May 1943 and to Camp Pickett, Virginia, in June 1943.
At Camp Gordon Johnston, Private Bellow likely joined Company "I, "112th Infantry Regiment, 28th Infantry Division. Indeed, a Company "I" history stated that "In May [1943] trained replacements were received from Camp Walters, [sic] Texas and Camp Robinson, Ark." The company boarded a train on May 31, 1943, and arrived at Camp Pickett the following day, movements consistent with Bellow's mother's statement.
***********************************************************************************************
Hope Franklin Shown
September 18, 1925 – January 6, 2016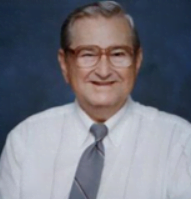 Hope Franklin Shown, age 90, passed away January 06, 2016. Hope was a WWII Veteran of the 351st Harbor Craft Division and served in both The European and Pacific theatres.
He was preceded in death by parents Haiz Franklin and Susan Vinsant Shown; son Benny Shown; brothers Curtis and wife Geneva Shown, George Shown, and Carlas Shown; sisters Gladys Shown, Eva Lee Human, Lillian Mynatt, Ruth Lindsey, and Alma Wright. He is survived by his wife Pauline Goodman Shown; sons Ricky and wife Joyce Shown, and Mark and wife LeaAnn Shown; daughters Shirley and husband Eddie Thompson, Deanna Shown, and Patricia Hope and husband Stanley Rinehart; 12 grandchildren, numerous great grandchildren and several great-great grandchildren; and a host of friends, relatives, and family.
Joseph P. L'Abbe
Joseph P. L'Abbe, (20 June 1920- 7 Jun 1987) was briefly assigned to the 341st Harbor Craft but shortly after transferred to the 337th Harbor Craft. He served in Europe, arriving at the Port of Cherbourg just days after D Day, and the unit arrived at the Danube River right as V-E was nigh. There, L'Abbe was put in charge of the crew (as POWs) of the yacht Hungarian, a gift from Hitler to the Regent of Hungary, Miklós Horthy. The yacht was flying the Nazi flag, which was changed out for an American flag, and the family still has this Nazi flag in their collection.
The Hungaria was renovated, moved to the Rhine River, and renamed the Mainz, where she remains in service to the German government today.
While with the Hungaria, L'Abbe befriended a Hungarian crew member named Julius Cserney. L'Abbe advised Cserney not to return to Hungary as it would be under Soviet control. Cserney emmigrated to New Zealand. 25 years later Cserney contacted L'Abbe, and they wrote to each other, catching up life and where they landed after the war.
Joe Sullivan
Joe Sullivan, Company C, 594th wrote the following Tall Tale: I was a member of Company C and arrived at Camp Gordon Johnston, Florida from Cape Cod, Massachusetts on 9 September 1943. I was eighteen years old with only two months of service. We trained as combat engineers and then went to manning landing craft. There we trained the 4th Infantry Division in Amphibian warfare. Then the New Year's holidays arrived.
With nothing to do and nowhere to go, we were restricted to the Camp and the small town of Carrabelle, Florida. It was decided that we would have a New Year's Eve booze party, and a volunteer was asked to go into Carrabelle, secure liquor, evade detection by the MP's at the Camp gate and return to the Company area. This sounded to me like more fun than I had in months of boring army training. A challenge to defy authority! I went for it.
Everyone chipped in, and my buddy and I hitched a ride into Carrabelle at sunset. We walked the boardwalk to the nearest liquor store. We bought about twelve bottles of liquor and a large bottle of Champagne for myself. I spotted a large Packard sedan Taxi with the spare tires mounted on each side of the car body. We made a deal with the cabby. First we pulled off the tires, stashed the tubes and stored the bottles in the remounted tires, and off we went, back to Camp.
Arriving at the well-lit front gate of Camp Gordon Johnston, we found that it was manned by two MP's and their commander, a 2nd Lieutenant. We were ordered "OUT OF THE CAR!". These guys must have been tipped off because they pulled out all the car seats, opened and searched the trunk, searched under the hood and even crawled under the car. But they did not pull off the two spare tires. Sitting beside the 2nd Lt. was a cluster of confiscated bottles which I'm sure were headed for the "O" club (Officer's Club) that night. After the exhausting search of the car; off we went to the best all-male party ever at Camp Gordon Johnston. Having no ice to cool my wine, I ended up at the back door of the O club and got myself a bucket of ice. We screwed the system and had a wonderful time.
Albert Rittenhouse
1923–1994
BIRTH 7 MAY 1923 • Lower Gwynedd, Pennsylvania, USA
DEATH 31 MAR 1994 • Philadelphia, Pa (age 70), buried in Fort Indiantown Gap National Cemetery, Annville PA
339th Harbor Craft Co.
Participated in the invasion of Southern France.
Mr Rittenhouse was 19 when he entered service after leaving his CCC enlistment at Camp Stryker in Montana. He completed his basic training at Camp Edwards in Massachusetts and was assigned to the 339th Harbor Craft at Camp Gordon Johnston. He saw action in the invasion of Southern France as a Landing Craft driver in the invasion wave. From the photos he appears to have been Germany, Julich is about 20-30 miles west of the Rhine so he most likely participated in the Rhine crossing.
Many thanks to Linda Hagerty Walker, Albert Rittenhouse's niece, who contributed this information and the photos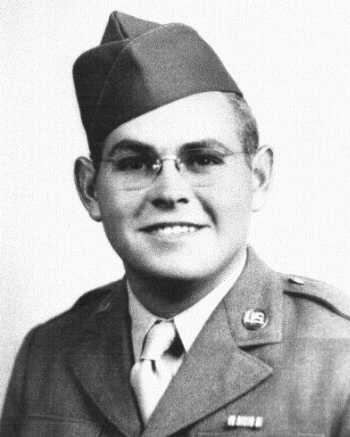 Oliver R. Smith
From the Biography of Oliver R. Smith, T/4, Coxswain, Co. C, 543rd Engineer Boat and Shore Regiment, 3rd Engineer Special Brigade, who trained at Camp Gordon Johnston.
They had no "M" boats at Camp Gorden Johnson so we were ferrying them south for the winter. The 2nd Brigade had moved on to Ft. Ord to make room for us. They had also been in training longer and were needed in Australia and New Guinea. We didn't know this at the time. We continued down the coast of Florida to where the Water way turns and goes west across the state. We crossed Lake Okachobe to the gulf side of Fla. and then up the coast. I remember we stopped at Tarpon Springs, a Greek sponge fishing port. We were out of cigarettes and I only had about 50 cents. I found a bag of OUR ADVERTISER roll your own there must have been 5 lb. in the bag with papers. This had to last until we got to Carabelle. When I got to Carrabelle I was pretty well worn out, I think I had the Flu. The First Sgt. ,Sgt. Mayberry, sure treated me good . He let me rest up a few days to get to feeling better. Newt Borden says a book could be written on that trip.
At Camp Gordon Johnson We lived in Barracks that were frame construction, with tar paper and batts on the side. It was cold at night and the water tower had great ice icicles that seemed to be 2 or 3 feet long.
Camp Gordon Johnson Dec. 1942 Through April 1943;
Our training her covered all the shore things like, Close order drill, Machine Gun, Obstacle Course, Crawling under machine gun fire with tracers at. night, that was quit a thrill. Rifle Range, and boat training
For his full biography, with additional photos, follow this link https://www.campgordonjohnston.com/2466-2/
Thomas B. Noland
Noemfor Island Invasion July 2, 1944, written by Thomas B. Noland, Corporal, Co. D, 593rd EBSR
We Amphibian Engineers had been wanting a chance to prove that we could handle every phase of an amphibian landing operation. Why not? We operate Buffalos, Ducks (DUKWs), LCMs. With these we were to take over the show after the navy finished its shelling of the shore; to land the Infantry, carry artillery ashore, bring in ammunition. fuel, and supplies over roads our cats would build, and place all this in dumps, caring for prisoners, and otherwise supporting and defending the beach head. After that, there would be general Engineering tasks. A big job, but a step towards Tokyo, we were confident.
On the morning we left the staging area the harbor was full of landing craft; LSTs, LCTs, LCIs and LCMs and some amphibs were on each type. Those of us who were assigned to an LCI were glad because for once we were to travel on a boat where (we) would not have to climb over all sorts of equipment when we moved around. There was a mad rush for bunks as we fanned out through the troop compartments, but to our surprise we found that there were a few more bunks than men. A mistake we felt sure, so we were relieved when the ramp was pulled up before another stampede.
Before long our part of the convoy moved out, with LCIs in the lead followed by LCTs and finally the LCMs. None of these craft were built for looks, ….
Click here for the rest of the story
Joseph Meyers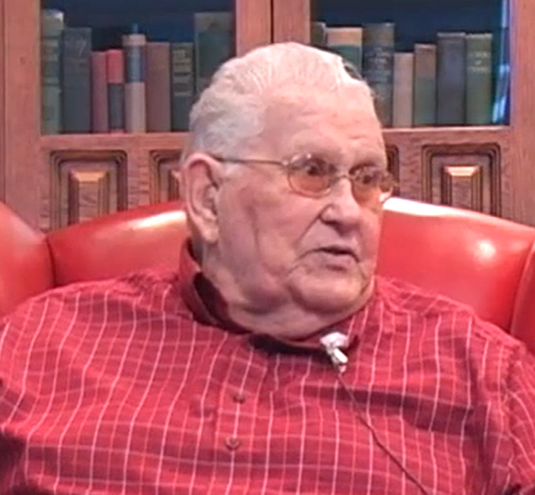 A wonderful video of Joseph Meyers Pfc, which includes memories of training at Camp Gordon Johnston, can be found at: Library of Congress: https://www.loc.gov/item/afc2001001.86974/
Unit of Service: A Company, 564th Engineer Boat Maintenance (EBM) Battalion, 4th Engineer Special Brigade
Location of Service: New Guinea; New Britain Island (Bismarck Archipelago); Luzon, Philippines; Pacific Theater
Tony served on amphibious vehicles while he was in the 562nd Engineer Boat Maintenance Battalion in the 562nd Pacific from 1942 to 1945. Story is from the Sarasota Herald-Tribune, photo by Abby Weingarten.
Originally from Hoboken, N.J., Tony Castellano grew up across the street from Frank Sinatra before leaving home for the Army in World War II. Castellano and his three brothers, Francis, Joseph and Louis, all became soldiers shortly after the Japanese bombed Pearl Harbor. Tony Castellano was assigned to the 562nd Engineer Boat Maintenance Battalion in the Pacific from 1942 to 1945, and he served on amphibious vehicles.
'We left California for the Pacific in February 1942. I was in the group that went in, not on D-Day, but the next day. It was called D+1. We had an area set up where we could repair the boats that got damaged during the war. We were always with different outfits. They would assign 50 of us to different places, from Leyte to New Guinea and Australia and all throughout the Pacific. New Guinea was 1,500 miles long, and you could only go 100 feet from the beach. There were jungles and you couldn't really fight in the jungles. We went in pockets. We would take a group of say, 300 men, and we would land on one side of New Guinea. We jumped all along the New Guinea coast, going in at different areas. That's why it took so long. We were on amphibious landing crafts and we would repair the boats in all these places. We put the troops on the islands wherever we went. We had 500 of these landing barges we used.
In New Guinea, there were no docks, so you couldn't unload the ship. The boat had to come in and it had to be out that night because we had no Navy or Air Force helping us. The Japanese would come around and bomb us every night, and it was always dangerous.These landing barges had ramps that came down and the men would come running off. The ramps kept the men from going too deep into the water; if we didn't have that ramp, they would drop down into the water with a heavy pack and just drown. That extension was helpful to get the guys off the barges and onto the island. We got them onto the islands safely that way.
I remember when we landed in Brisbane, Australia. I was living in a tent, and a guy came over to me with one of those British notes, the money they were using in Australia. He asked me to sign my name on it and put my address on it, and the other guys in my company signed it, too. Well, about four years ago, a guy from New Jersey purchased a package with old notes and paper money with writing. They pull these out of circulation and sell them off to interested people. The buyer's name was William Haryslak, a rare coin and currency collector. He bought the note I wrote on during World War II, and he tried to contact all the names of the guys on it. He couldn't find the other guys because some of their information wasn't legible, but he found me.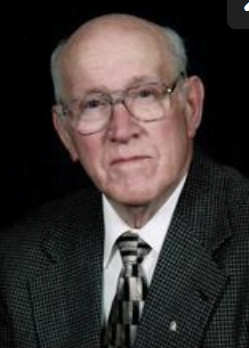 Albert J. Belliveau
| | |
| --- | --- |
| Service # | 31062498 |
| Unit | 353rd Transportation Corps Harbor Craft Company |
| Rank | Private U.S. Army |
| Entered Service From | Massachusetts |
Date of Death February 15 1945
Buried PlotG, Row4, Grave161, Cambridge American Cemetery,
Madingley Road, Coton CB23 7PH
Cambridge, United Kingdom