Special Exhibit: November 2020
Honoring our Native American Servicemen and Code Talkers
Do you recognize the names Ira Hayes, Gregory "Pappy" Boyington, Ernest Childers or Roy Harmon? Do you know what a "Jay-Sho" is? Did you know that there are 28 Medal of Honor recipients who are Native American, including seven from WWII?
Camp Gordon Johnston WWII Museum in Carrabelle is excited to announce a special exhibit honoring Native American Servicemen and Code Talkers. This exhibit opened Tuesday, November 3 at 11 am and will be on display at the museum until November 28, 2020 at 5 pm. November is National Native American Heritage Month, and the Camp Gordon Johnston Museum salutes their service and sacrifice. The museum is open every Tuesday through Saturday from 11 am to 5 pm and there is no charge for admission.
"During World War I and World War II, hundreds of American Indians joined the United States armed forces and used words from their traditional tribal languages as weapons. The United States military asked them to develop secret battle communications based on their languages—and America's enemies never deciphered the coded messages they sent. "Code Talkers," as they came to be known after World War II, are twentieth-century American Indian warriors and heroes who significantly aided the victories of the United States and its allies.
The Code Talkers' role in war required intelligence and bravery. They developed and memorized a special code. They endured some of the most dangerous battles and remained calm under fire. They served proudly, with honor and distinction. Their actions proved critical in several important campaigns, and they are credited with saving thousands of American and allies' lives."  (Source: The National Museum of the American Indian).
Come to the Camp Gordon Johnston Museum during the month of November and learn about the Native Americans who fought for the United States in World War II! Discover the story of the Code Talkers, who used their unbreakable code based on their native tongues to help defeat the enemy. To learn more about Native American Heritage Month go to https://nativeamericanheritagemonth.gov/.
Camp Gordon Johnston WWII Museum is located in Carrabelle, directly across from Carrabelle Public Beach Park at 1873 Hwy 98 West. For more information, contact us at (850) 697-8575 or museum@campgordonjohnston.com. Funded in part by the Franklin County Tourist Development Council.
Past Events
Inaugural Camp Gordon Johnston Benefit Golf Tournament Honors Pearl Harbor Day
Camp Gordon Johnston WWII Museum and St. James Bay Golf Club hosted an Inaugural Camp Gordon Johnston Benefit Golf Tournament on the anniversary of the attack on Pearl Harbor. This tournament was held on Pearl Harbor Day to honor the brave men and women who responded to our country's need and served in the armed forces at home and abroad on Saturday, December 7, 2019 at St. James Bay Golf Club in Carrabelle, FL. The Camp Gordon Johnston Museum displayed vehicles and artifacts on site during the tournament. There was be a buffet at the Crooked River Grill in the St. James Bay Clubhouse following the tournament.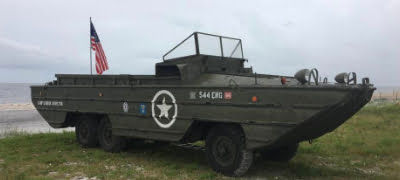 All proceeds are earmarked to help fund a new building to house Camp Gordon Johnston's three historical military vehicles, including the famous WWII DUKW. These historical military vehicles are still operable and because of the lack of space onsite at the museum, currently they must be kept at a separate location.
Sidney A. Winchester Building Dedication at Camp Gordon Johnston Museum
The Camp Gordon Johnston Association and WWII Museum was honored to dedicate our museum building on September 21, 2019  to the late Sidney A. Winchester, a Carrabelle native, U. S. Army veteran and key supporter of Camp Gordon Johnston Museum. We were joined by U.S. Congressman Neal Dunn, M.D. (FL-02) who made two very special presentations during the ceremony. Congressman Dunn presented a container of sand from Utah Beach, Normandy, France to the Camp Gordon Johnston WWII Museum and then presented an American Flag that had  flown over the U.S. Capitol Building in Washington D.C. to Sidney Winchester's wife, Bobbye, who accepted the flag on behalf of the Museum in honor of Sidney's service both as a paratrooper with the 82nd Airborne and as a charter member and champion of the Camp Gordon Johnston Association. The sand from Utah Beach and the flag will be on display at the Museum.  Also on this day, Camp Gordon Johnston Museum celebrated Smithsonian magazine's 15th annual Museum Day. This national celebration honors museums that follow the example of the Smithsonian with free admission.
Click Here to see the Video of the Dedication Ceremony and Congressman Neal Dunn's special presentations. Thanks to Mayor Brenda La Paz for this video! Click here to learn more about these events.