Special Exhibit for April: Remembering the Battle to Okinawa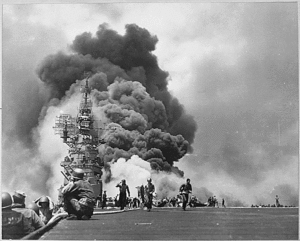 Starting April 1 and lasting until May 15, the Camp Gordon Johnston WWII Museum will present a special exhibit on the most violent and costliest campaign of WWII, the Battle to Take Okinawa. The battle started with the capture of the Kerama Islands by the 77th infantry Division on March 26, 1945, and ended 98 days later on July 2. This effort involved three marine divisions and four infantry divisions making up the Tenth Army, which had its own tactical air force, and was supported by naval and amphibious commands. The battle cost more lives on both sides than any other campaign in the Pacific. The taking of Okinawa provided a base from which Operation Downfall, the invasion of the Japanese mainland, was to be launched. Operation Downfall, of course, was made unnecessary by the surrender of Japan in September of 1945.
This exhibit will open Thursday, April 1 at 11 am and will be on display at the museum until Saturday, May 15, 2021 at 5 pm. Included in the exhibit will be historic photos and Marine Corps artifacts, some of which were recently acquired. There is no charge for admission but donations are gladly accepted.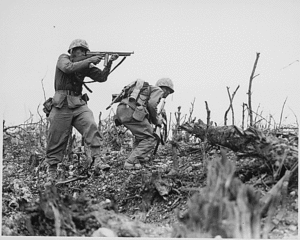 Camp Gordon Johnston WWII Museum is located in Carrabelle, directly across from Carrabelle Public Beach Park at 1873 Hwy 98 West. For more info, contact us at (850) 697-8575 or museum@campgordonjohnston.com. Funded in part by the Franklin County Tourist Development Council.
*********************
Special Event: Museum Day
Back by popular demand all three of Carrabelle's wonderful museums will open their doors on Saturday, May 1, 2021 as part of a special rescheduled Museum Day. In salute to this day, Carrabelle History Museum, Camp Gordon Johnston WWII Museum, and Crooked River Lighthouse Museum will have special activities and displays.
This year, the Carrabelle museums will use Museum Day to pay tribute to the members of our country's Armed Forces past and present as part of National Military Appreciation Month. Military Appreciation Month was officially designated by Congress in 1999. Every year, the president issues a proclamation reminding Americans to celebrate this patriotic month by honoring those who have served in all branches of service. May was chosen because it has many individual days marked to note our military's achievements, including Memorial Day, Loyalty Day (established in 1921), Victory in Europe (VE) Day commemorating the end of WWII in Europe in 1945, Children of Fallen Patriots Day, Military Spouse Appreciation Day and Armed Forces Day.
In keeping with this theme, Carrabelle's three history museums will pay tribute to our country's military including features on some of the local military service members and veterans of the U.S. Lighthouse Service (predecessor of the Coast Guard). Admission to all three museums is free to everyone and there will be free lighthouse tower climbs for all military active duty and veterans on May 1st as well.
Funded in part by the Franklin County Tourist Development Council.
INFORMATION ON MUSEUMS
Camp Gordon Johnston WWII Museum
Camp Gordon Johnston WWII Museum honors the military men and women as well as civilian personnel who trained and worked at Camp Gordon Johnston during WWII. The museum houses numerous military artifacts, photos and memorabilia of many types. Located at 1873 Highway 98 West, directly across from Carrabelle Beach where military troops practiced D-Day beach assaults. Saturday hours 11 am – 5 pm. More information contact, (850) 697-8575 or museum@campgordonjohnston.com.
Carrabelle History Museum
Carrabelle History Museum features local artifacts and exhibits including Carrabelle's Native American people, the Steamship "Tarpon", the original "World's Smallest Police Station", Carrabelle industry and culture and families from the pioneer days to the present. Located at 106 Avenue B, SE, Carrabelle, FL. Saturday hours 10 am – 5 pm. More information contact, 850-697-2141 or carrabellehistorymuseum@gmail.com.
Crooked River Lighthouse
The history and the science of the Crooked River Lighthouse are displayed through interesting exhibits, including a historical setting of the early 1900's, examples of beacons, the methods of constructing a skeletal tower lighthouse, plus the original Keeper's House clock, a glass fire grenade, and more. Located at 1975 Hwy 98 West, Carrabelle. Saturday hours 9 am – 5 pm. More information contact, 850-697-2732 or carrabellelighthouse@gmail.com.
*********************
Past Events
Inaugural Camp Gordon Johnston Benefit Golf Tournament Honors Pearl Harbor Day
Camp Gordon Johnston WWII Museum and St. James Bay Golf Club hosted an Inaugural Camp Gordon Johnston Benefit Golf Tournament on the anniversary of the attack on Pearl Harbor. This tournament was held on Pearl Harbor Day to honor the brave men and women who responded to our country's need and served in the armed forces at home and abroad on Saturday, December 7, 2019 at St. James Bay Golf Club in Carrabelle, FL. The Camp Gordon Johnston Museum displayed vehicles and artifacts on site during the tournament. There was be a buffet at the Crooked River Grill in the St. James Bay Clubhouse following the tournament.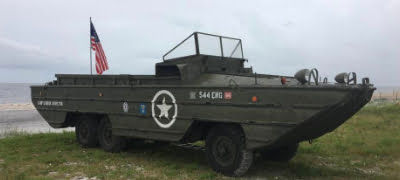 All proceeds are earmarked to help fund a new building to house Camp Gordon Johnston's three historical military vehicles, including the famous WWII DUKW. These historical military vehicles are still operable and because of the lack of space onsite at the museum, currently they must be kept at a separate location.
Sidney A. Winchester Building Dedication at Camp Gordon Johnston Museum
The Camp Gordon Johnston Association and WWII Museum was honored to dedicate our museum building on September 21, 2019  to the late Sidney A. Winchester, a Carrabelle native, U. S. Army veteran and key supporter of Camp Gordon Johnston Museum. We were joined by U.S. Congressman Neal Dunn, M.D. (FL-02) who made two very special presentations during the ceremony. Congressman Dunn presented a container of sand from Utah Beach, Normandy, France to the Camp Gordon Johnston WWII Museum and then presented an American Flag that had  flown over the U.S. Capitol Building in Washington D.C. to Sidney Winchester's wife, Bobbye, who accepted the flag on behalf of the Museum in honor of Sidney's service both as a paratrooper with the 82nd Airborne and as a charter member and champion of the Camp Gordon Johnston Association. The sand from Utah Beach and the flag will be on display at the Museum.  Also on this day, Camp Gordon Johnston Museum celebrated Smithsonian magazine's 15th annual Museum Day. This national celebration honors museums that follow the example of the Smithsonian with free admission.
Click Here to see the Video of the Dedication Ceremony and Congressman Neal Dunn's special presentations. Thanks to Mayor Brenda La Paz for this video! Click here to learn more about these events.