Special Exhibit: February 1-29, 2020, Anniversary of Iwo Jima and African American Servicemen
Camp Gordon Johnston WWII Museum presents special exhibits commemorating the anniversary of the Iwo Jima Battle and African-American Servicemen. These exhibits will open Saturday, February 1 at 11 am and be on display at the museum until February 29, 2020 at 5 pm.  There is no charge for admission but donations are gladly accepted.
75 years ago on February 19, 1945, the 4th Marine Division stormed the island of Iwo Jima. Deployed with them was the 476th Amphibious Truck Company, an African American unit that trained at Camp Gordon Johnston. Although the 476th was part of the US Army, the company was assigned to the artillery forces of the 4th Marines for the assault landings on the island. This much decorated unit was part of the heavy fighting that day and the following days.
Throughout the month of February, the Camp Gordon Johnston Museum will have the special exhibits commemorating the anniversary of the Iwo Jima Battle and honoring African American servicemen in WWII including the 476th Truck Company, other amphibious truck units as well as the Tuskegee airmen, who trained at nearby Dale Mabry Field in Tallahassee. Exhibits will include photos, video, and artifacts including some from the Marine Corps. The museum will also be screening several films , including "Red Tails", "Letters from Iwo Jima", and "Flags of Our Fathers" and will also have a vintage WWII vehicle on display at special times in February. Be sure to watch the museum's Facebook page for the schedule or call the museum for dates and times.  Funded in part by the Franklin County Tourist Development Council.
25th Anniversary Camp Gordon Johnston Days Events
Friday, March 13-Sunday, March 15, 2020
Calling all high school bands, marching bands, golf cart drivers, law enforcement, fire fighters, active duty military and veterans, high school and college groups, float makers, veteran loving individuals and businesses, and community groups! Inviting all cool or classic car owners, veteran organizations, bicycle riders, best-dressed patriotic pets and motorcycle riders! We need you!
Camp Gordon Johnston WWII Museum is excited to announce our 25th Annual Camp Gordon Johnston Days events. For this special anniversary year we need your help in making the parade bigger and better than ever. We cordially invite you to participate in the 25th Annual Camp Gordon Johnston Days Parade in Carrabelle, Florida on Saturday, March 14, 2020 starting at 10:45 AM (ET). You do not have to have any military affiliation to participate, just an appreciation for our veterans and military.
Join us as we celebrate and recognize all military veterans and current service members here and abroad with a special tribute for our WWII veterans. This unique parade features vintage and restored military vehicles, including WWII DUKW, Willis Jeep and German Lieferwagen, Patriot Rider motorcycles, color guards, and, of course, many community floats, golf carts, classic cars, Shriners, and beauty queens. Individuals, community organizations and businesses are all welcome to participate with a float, vehicle or as walkers. All we ask is that you show your support by displaying red, white and blue colors. Please come and celebrate all veterans, past and present, by attending the March 14th parade at Carrabelle.
For best parade placement, please fill complete the online parade application or download parade application and return it by the deadline date of March 9, 2020.  There is no cost to participate in the parade. If you arrive without pre-registering, you are still encouraged to join but may be placed at the end of the parade.
On Sunday, March 15, we will also be hosting a Dice Run to raise funds for constructing a vehicle display building next to the current museum facility.  All types of vehicles are welcome. Registration will be open from 12:00-1:30 PM at the museum and the run will conclude by 4:30 PM.  Prizes for high and low rollers, door prizes, and 50-50 will be awarded.
We look forward to seeing you at our upcoming Camp Gordon Johnston Days events. For more information feel free to contact us at Camp Gordon Johnston WWII Museum, (850) 697-8575 or museum@campgordonjohnston.com.
###
Past Events
Inaugural Camp Gordon Johnston Benefit Golf Tournament Honors Pearl Harbor Day
Camp Gordon Johnston WWII Museum and St. James Bay Golf Club hosted an Inaugural Camp Gordon Johnston Benefit Golf Tournament on the anniversary of the attack on Pearl Harbor. This tournament was held on Pearl Harbor Day to honor the brave men and women who responded to our country's need and served in the armed forces at home and abroad on Saturday, December 7, 2019 at St. James Bay Golf Club in Carrabelle, FL. The Camp Gordon Johnston Museum displayed vehicles and artifacts on site during the tournament. There was be a buffet at the Crooked River Grill in the St. James Bay Clubhouse following the tournament.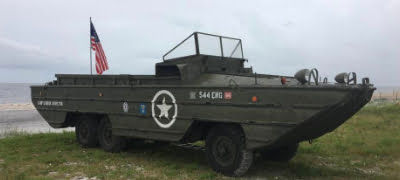 All proceeds are earmarked to help fund a new building to house Camp Gordon Johnston's three historical military vehicles, including the famous WWII DUKW. These historical military vehicles are still operable and because of the lack of space onsite at the museum, currently they must be kept at a separate location.
Sidney A. Winchester Building Dedication at Camp Gordon Johnston Museum
The Camp Gordon Johnston Association and WWII Museum was honored to dedicate our museum building on September 21, 2019  to the late Sidney A. Winchester, a Carrabelle native, U. S. Army veteran and key supporter of Camp Gordon Johnston Museum. We were joined by U.S. Congressman Neal Dunn, M.D. (FL-02) who made two very special presentations during the ceremony. Congressman Dunn presented a container of sand from Utah Beach, Normandy, France to the Camp Gordon Johnston WWII Museum and then presented an American Flag that had  flown over the U.S. Capitol Building in Washington D.C. to Sidney Winchester's wife, Bobbye, who accepted the flag on behalf of the Museum in honor of Sidney's service both as a paratrooper with the 82nd Airborne and as a charter member and champion of the Camp Gordon Johnston Association. The sand from Utah Beach and the flag will be on display at the Museum.  Also on this day, Camp Gordon Johnston Museum celebrated Smithsonian magazine's 15th annual Museum Day. This national celebration honors museums that follow the example of the Smithsonian with free admission.
Click Here to see the Video of the Dedication Ceremony and Congressman Neal Dunn's special presentations. Thanks to Mayor Brenda La Paz for this video! Click here to learn more about these events.