Special Exhibit: January 2021
Nuremberg & War Crime Trials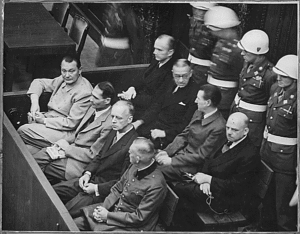 Camp Gordon Johnston WWII Museum in Carrabelle is presenting a special exhibit for the month of January on the War Crime Trials of German military and government members, of which the Nuremberg Trials are the most well known. This exhibit will open Friday, January 1, 2021 at 11 am and will be on display at the museum until January 31 at 5 pm. The museum is open every Tuesday through Saturday from 11 am to 5 pm and there is no charge for admission.
From November 1945 to October 1946 high ranking members of the German military and government were prosecuted for war crimes and crimes committed against humanity stemming from their actions before and during WWII. During the month of January the Camp Gordon Johnston Museum will present an exhibit about the trials, covering some of the more notorious defendants such as Hess, Göring, Döring, Jodl and Keitel; the prosecutors, the charges and the verdicts. The exhibit will include some WWII artifacts whose origin and path to the museum remain shrouded in mystery.
Camp Gordon Johnston WWII Museum is located in Carrabelle, directly across from Carrabelle Public Beach Park at 1873 Hwy 98 West. For more information, contact Camp Gordon Johnston Museum at (850) 697-8575 or museum@campgordonjohnston.com. Funded in part by the Franklin County Tourist Development Council.
Past Events
Inaugural Camp Gordon Johnston Benefit Golf Tournament Honors Pearl Harbor Day
Camp Gordon Johnston WWII Museum and St. James Bay Golf Club hosted an Inaugural Camp Gordon Johnston Benefit Golf Tournament on the anniversary of the attack on Pearl Harbor. This tournament was held on Pearl Harbor Day to honor the brave men and women who responded to our country's need and served in the armed forces at home and abroad on Saturday, December 7, 2019 at St. James Bay Golf Club in Carrabelle, FL. The Camp Gordon Johnston Museum displayed vehicles and artifacts on site during the tournament. There was be a buffet at the Crooked River Grill in the St. James Bay Clubhouse following the tournament.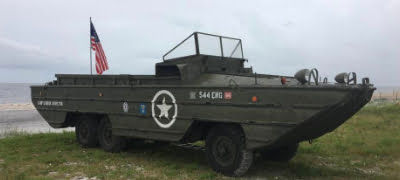 All proceeds are earmarked to help fund a new building to house Camp Gordon Johnston's three historical military vehicles, including the famous WWII DUKW. These historical military vehicles are still operable and because of the lack of space onsite at the museum, currently they must be kept at a separate location.
Sidney A. Winchester Building Dedication at Camp Gordon Johnston Museum
The Camp Gordon Johnston Association and WWII Museum was honored to dedicate our museum building on September 21, 2019  to the late Sidney A. Winchester, a Carrabelle native, U. S. Army veteran and key supporter of Camp Gordon Johnston Museum. We were joined by U.S. Congressman Neal Dunn, M.D. (FL-02) who made two very special presentations during the ceremony. Congressman Dunn presented a container of sand from Utah Beach, Normandy, France to the Camp Gordon Johnston WWII Museum and then presented an American Flag that had  flown over the U.S. Capitol Building in Washington D.C. to Sidney Winchester's wife, Bobbye, who accepted the flag on behalf of the Museum in honor of Sidney's service both as a paratrooper with the 82nd Airborne and as a charter member and champion of the Camp Gordon Johnston Association. The sand from Utah Beach and the flag will be on display at the Museum.  Also on this day, Camp Gordon Johnston Museum celebrated Smithsonian magazine's 15th annual Museum Day. This national celebration honors museums that follow the example of the Smithsonian with free admission.
Click Here to see the Video of the Dedication Ceremony and Congressman Neal Dunn's special presentations. Thanks to Mayor Brenda La Paz for this video! Click here to learn more about these events.