Special Exhibit for April: Remembering the Battle to Okinawa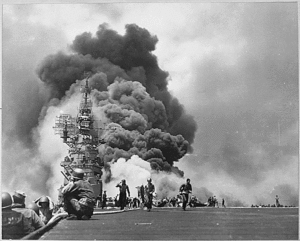 Starting April 1 and lasting until May 15, the Camp Gordon Johnston WWII Museum will present a special exhibit on the most violent and costliest campaign of WWII, the Battle to Take Okinawa. The battle started with the capture of the Kerama Islands by the 77th infantry Division on March 26, 1945, and ended 98 days later on July 2. This effort involved three marine divisions and four infantry divisions making up the Tenth Army, which had its own tactical air force, and was supported by naval and amphibious commands. The battle cost more lives on both sides than any other campaign in the Pacific. The taking of Okinawa provided a base from which Operation Downfall, the invasion of the Japanese mainland, was to be launched. Operation Downfall, of course, was made unnecessary by the surrender of Japan in September of 1945.
This exhibit will open Thursday, April 1 at 11 am and will be on display at the museum until Saturday, May 15, 2021 at 5 pm. Included in the exhibit will be historic photos and Marine Corps artifacts, some of which were recently acquired. There is no charge for admission but donations are gladly accepted.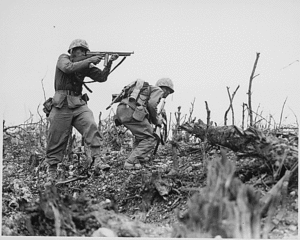 Camp Gordon Johnston WWII Museum is located in Carrabelle, directly across from Carrabelle Public Beach Park at 1873 Hwy 98 West. For more info, contact us at (850) 697-8575 or museum@campgordonjohnston.com. Funded in part by the Franklin County Tourist Development Council.
*********************
History Talk: Florida in World War 1
Camp Gordon Johnston Museum in partnership with the Carrabelle History Museum is presenting a fascinating history program entitled, "Florida in World War I". Learn about the contributions of Florida in WWI as well as the impact of the 1918 pandemic on Florida. This program features author Joe Knetsch and will be held Saturday, April 10, 2021, at 10 am – 12 pm in the upstairs room at C-Quarters Marina, 501 St. James Ave (Hwy 98), Carrabelle, FL. Due to COVID precautions, seating will be limited. There is no charge for this event but reservations are required.
A century ago, sparsely populated and largely rural Florida rallied as America plunged into World War I. The state's sacrifices and contributions have rarely been awarded their proper due. The proud USS Florida, too often mentioned as a mere adjunct to the Atlantic Fleet, receives a just accounting, as does the utterly devastating loss of the USS Tampa, the highest death toll the navy suffered in the war. Sunshine State foresters served critical roles abroad, and local libraries became essential hubs for promoting rationing and reporting news from overseas. Floridian aid workers and soldiers training for departure were stricken with the Spanish flu, a pandemic that shook the globe with force equal to the war itself.
Joe Knetsch is an American historian and author who has published eight books and over 200 articles in numerous journals. Joe has a B.S. from Western Michigan University, an M.A. from Florida Atlantic University and a Ph.D. from Florida State University. He has taught at the secondary and collegiate levels, and worked as a historian for the Department of Environmental Protection and Department of Natural Resources.
Additionally Camp Gordon Johnston Museum will be bringing a display of WW1 artifacts from their collection. Plus they will have information on three local men who served and were killed in WW1.
The History Speaker Series programs are popular and due to COVID precautions, seating will be limited to 50 attendees. Reservations are required by contacting the Carrabelle History Museum at carrabellehistorymuseum@gmail.com or 850-697-2141. Masks are required. Seats will be spaced to allow for social distancing. Attendees are asked to follow all health guidelines including social distancing and sanitizing hands frequently. There is no fee for this program. Donations are gladly accepted to defray costs. Funding in part by the Franklin County Tourist Development Council.
*********************
Past Events
Inaugural Camp Gordon Johnston Benefit Golf Tournament Honors Pearl Harbor Day
Camp Gordon Johnston WWII Museum and St. James Bay Golf Club hosted an Inaugural Camp Gordon Johnston Benefit Golf Tournament on the anniversary of the attack on Pearl Harbor. This tournament was held on Pearl Harbor Day to honor the brave men and women who responded to our country's need and served in the armed forces at home and abroad on Saturday, December 7, 2019 at St. James Bay Golf Club in Carrabelle, FL. The Camp Gordon Johnston Museum displayed vehicles and artifacts on site during the tournament. There was be a buffet at the Crooked River Grill in the St. James Bay Clubhouse following the tournament.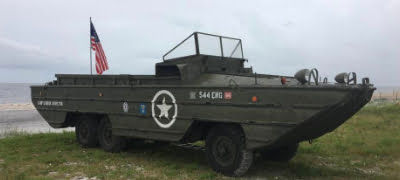 All proceeds are earmarked to help fund a new building to house Camp Gordon Johnston's three historical military vehicles, including the famous WWII DUKW. These historical military vehicles are still operable and because of the lack of space onsite at the museum, currently they must be kept at a separate location.
Sidney A. Winchester Building Dedication at Camp Gordon Johnston Museum
The Camp Gordon Johnston Association and WWII Museum was honored to dedicate our museum building on September 21, 2019  to the late Sidney A. Winchester, a Carrabelle native, U. S. Army veteran and key supporter of Camp Gordon Johnston Museum. We were joined by U.S. Congressman Neal Dunn, M.D. (FL-02) who made two very special presentations during the ceremony. Congressman Dunn presented a container of sand from Utah Beach, Normandy, France to the Camp Gordon Johnston WWII Museum and then presented an American Flag that had  flown over the U.S. Capitol Building in Washington D.C. to Sidney Winchester's wife, Bobbye, who accepted the flag on behalf of the Museum in honor of Sidney's service both as a paratrooper with the 82nd Airborne and as a charter member and champion of the Camp Gordon Johnston Association. The sand from Utah Beach and the flag will be on display at the Museum.  Also on this day, Camp Gordon Johnston Museum celebrated Smithsonian magazine's 15th annual Museum Day. This national celebration honors museums that follow the example of the Smithsonian with free admission.
Click Here to see the Video of the Dedication Ceremony and Congressman Neal Dunn's special presentations. Thanks to Mayor Brenda La Paz for this video! Click here to learn more about these events.