The Boat Battalion, 594th Engineer Boat and Shore Regiment, arrived at their overseas destination, Milne Bay, New Guinea, on May1, 1944. Elements of this battalion relieved the 3d Engineer Special Brigade at the boat assembly plant, Milne Bay, and engaged in the construction of welded LCMs imder the supervision of the Commanding Officer, 5211th Engineer Battalion.
The Shore Battalion of the 594th Regiment arrived overseas MayBay, Milne Bay, and Australia by the middle of June 1944, and engaged in port operation and cargo handling at Oro Bay. All units of the brigade were overseas and established at OroBay, Milne Bay, and Australia by the middle of June 1944
Roster of the 594th Engineer Boat and Shore Company
Tall Tales
Today, the Florida panhandle is a vacation resort paradise. In 1944, times were a little different. One tale of that time relates how Tech 4th. Grade, Eph Hansell, Company B, definitely did not like "Hillbilly" music, especially when it played on and on. Eph ended up losing his temper over it and threw the offending radio across the floor of a Camp Gordon Johnston barracks. The radios owner and his friends then attempted to throw Eph into the Gulf of Mexico. Eph emerged from the fight sore and bruised and is to this day, no lover of hillbilly music. He has apparently quit throwing radios though.
See the story by Joe Sullivan about his days in Camp Gordon Johnston on the Tribute to the Veterans tab here
GUNNERS OF THE 594TH ENGINEER BOAT AND SHORE REGIMENT B COMPANY, UNITED STATES ARMY STAND BY AS THEIR BARGE APPROACHES THE ENTRANCE TO HENRY REID BAY.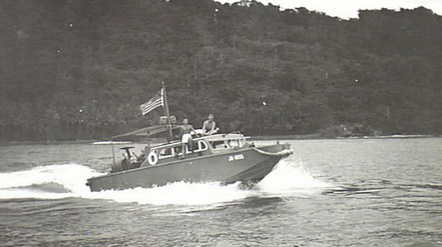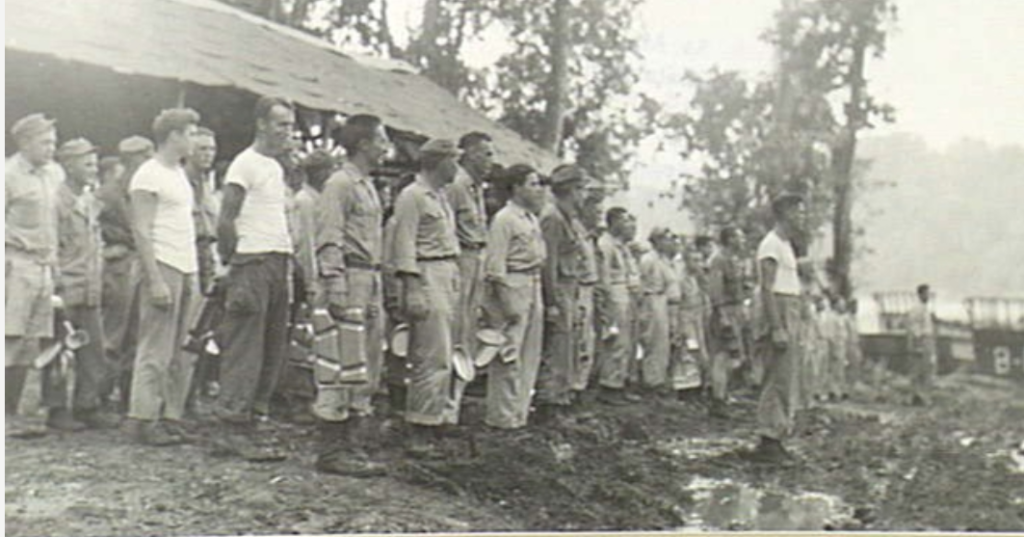 MALMAL MISSION, JACQUINOT BAY, NEW BRITAIN. 1944-11-24. TROOPS OF B COMPANY, 594TH ENGINEER BOAT AND SHORE REGIMENT, UNITED STATES ARMY ATTACHED TO THE 5TH AUSTRALIAN DIVISION LINE UP FOR THEIR THANKSGIVING MESS PARADE.
See more photos under 594th EBSR Photos