The 592nd Engineer Boat Regiment of the 2nd Engineer Amphibian Brigade was redesignated as the 592nd Engineer Amphibian Regiment on 1 October 1942.
On 18 February 1943, the 592nd Engineer Amphibian Regiment, the 3499th Ordnance Medium Maintenance Company and the 287th Signal Company left San Francisco by ship headed for Australia.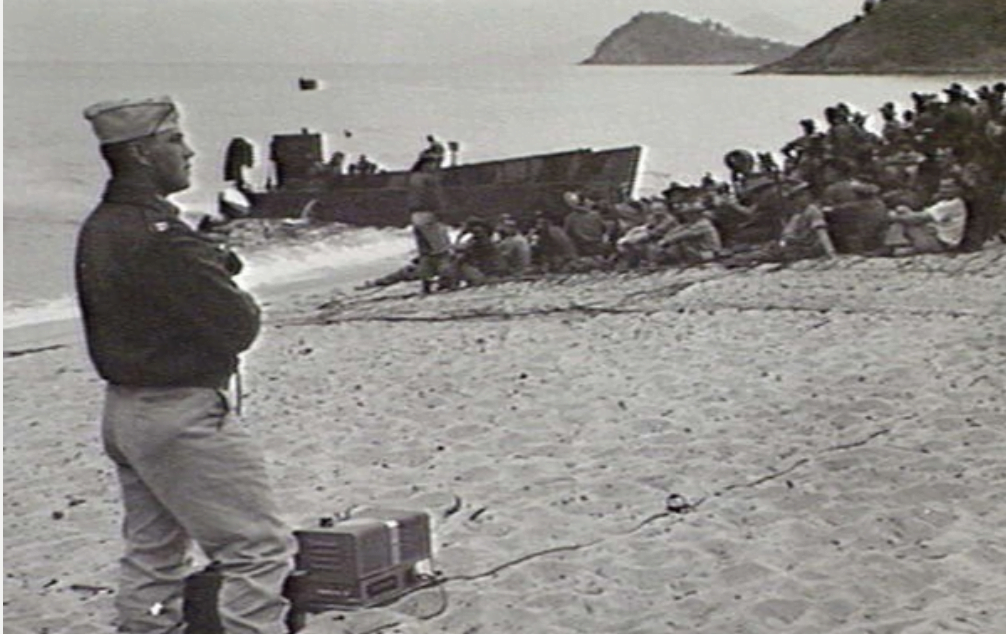 TRINITY BAY, CAIRNS, QLD, 1943-07-27. CAPTAIN H. M. SEIPT OF THE 592ND ENGINEERS BOAT AND SHORE BATTALION, UNITED STATES ARMY, LECTURES TROOPS ON THE METHODS OF LANDING BARGES. IN THE BACKGROUND CAN BE SEEN A LCM (LANDING CRAFT MECHANISED). (www.awm.au)
The 592nd left Rockhampton on 14 June 1943 by train headed for Cairns in far north Queensland. Company "A" of the 592nd occupied the same camp used by Company "A" of the 532nd Engineer Amphibian Regiment north of Cairns on the left hand side of the highway, inland from Palm Beach (Palm Cove). Then the entire 592nd and elements of the 3 ESB Regiment (533, 593 and 543) took over the rest of the camp when the 532nd moved to New Guinea. The 592 were there from 1 July 1943 until October 1943.
Acknowledgement:
https://www.ozatwar.com/usarmy/592ndengineeramphibianregiment.htm