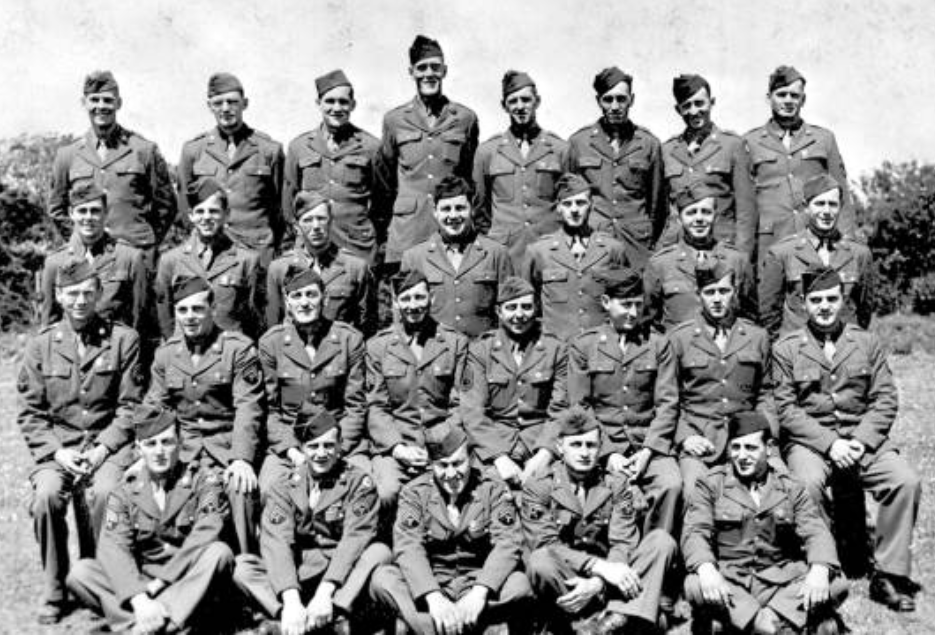 Second row: Richard Thomas, Edsel Lucas, Wm. Edwards, Richard Mueller, Leroy Tidlund, Peter Hauser, Harris Boatwright.
Third row: Melvin Blackstone, Ray. Murphy, Chs. J. Smith, Edwin Caplinger, Maurice Franceau, Wm. Evans, Wm. Mikita, Warren Kelly.
Front row: Phil. Pritchett, John Gazdik, Chester Maciejewsli, Leonard Werth, John Nye.
Camp Gordon Johnston originally opened as Camp Carrabelle and was later named to honor Colonel Gordon Johnston in January 1943.
Back row: Geo. M. Esser, Phil. Karsted, Gordon Stark, Roy Briar, William Viglianco?, Merle Averill?, Geo. Kubik.
For more information on EPC&R units in Europe, go to:
http://tothosewhoserved.org/usa/ts/usatse01/chapter17.html
Averill, Merle
Blackstone, Melvin
Boatwright, Harris
Briar, Roy
Caplinger, Edwin
Edwards, William
Esser, George M.
Evans, William
Franceaus, Maurice
Gazdik, John
Hauser, Peter
Karsted, Phillip
Kelly, Warren
Kubik, George
Lucas, Edsel
Maciejewsli, Chester
Mikita, William
Mueller, Richard
Murphy, Raymond
Nye, John
Pritchett, Phillip
Smith, Charles J.
Stark, Gordon
Thomas, Richard
Tidlund, Leroy
Viglianco, William
Werth, Leonard